Wire Mesh
Wire Mesh
What is wire mesh cable tray?
High Quality Wire Mesh Cable Trays

Cablofil wire mesh cable trays are constructed of precision engineered, high-quality, welded steel wire and are the result of decades of research gained from the installation of 94,000 miles of cable trays across the globe.
.
.
.
.
.
.
How is cable tray fill calculated?
The sum of the cross sectional areas of all cables cannot exceed 50% of the trays fill area. The cable tray sizing equals the width times the loading depth. Generally, cable tray sizing is correct when it appears 50% full of cable or wire , or when it contains a 50% fill of cables or wire.
.
.
.
.
.
.
How many types of cable trays are there?
(6) Single Rail Cable Tray

Generally used for low voltage and power cable installations where maximum cable freedom, side fill and speed to install are factors.
.
.
.
.
.
.
Does cable tray need to be grounded?
In 99% of installations, the tray is only required be bonded and cannot be the EGC (Equipment Grounding Conductor). According to NEC and UL, EGC does not apply to Data or Multi-conductor Cable Tray applications. ... Therefore, 99% of tray installations only require bonding, not grounding serving as the EGC.
.
.
.
What is single rail cable tray?
Aluminum cable trays are perforated metal trays for cable line arranging and covering. Single Rail Cable Tray is generally used for low voltage and power cables installations where maximum cable freedom, side fill, and speed to install are factors. ...
.
.
.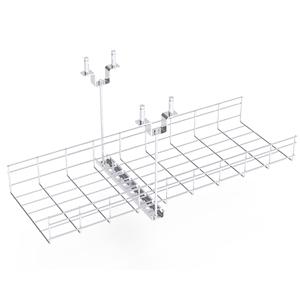 What is solid bottom cable tray?
Husky Trough Tray is a cable tray consisting of ventilated or solid bottom contained within longitudinal side members. Our solid bottom trough tray is used to carry smaller instrumentation, data communications, computer, telephone, control and fiber optic cable from one location to another.
.
.
.
.
.
.
What is the difference between cable tray and cable ladder?
Generally, cable ladders are preferred for supporting high volume or heavy cabling, especially if there are long spans between supports. Cable trays are typically used for light weight cable support, in addition to instrumentation and tubing.
.
.
.
.
Where is cable tray used?
In the electrical wiring of buildings, a cable tray system is used to support insulated electrical cables used for power distribution, control, and communication.
.
.
.
What is cable tray used for?
According to the National Electrical Code standard , a cable tray is a unit or assembly of units or sections and associated fittings forming a rigid structural system used to securely fasten or support cables and raceways.
.
.
.
Is cable tray an exposed conductive part?
The cable tray carries metallic sheathed cables, such as bare micc. - In the event of a fault on the circuit the fault path will be the metallic sheath of the cable and therefore the tray is not an exposed-conductive-part and does not require earthing.
.
.
.
.
.
.
What is the difference between earthing and bonding?
The principal of earthing is to prevent this situation occurring, by limiting the duration of touch voltages. Bonding is a connection of all metallic parts using a protective bonding conductor. ... The lack of bonding (as well as earthing) would create a chain effect of all metallic parts becoming live in the kitchen.
.
.
.
.
.
.
Product Category
Contact Us
Contact Us

آمار بازدید از سایت
تعداد بازدید در روز: 144
تعداد بازدید هفته: 946
تعداد بازدید کل: 634077